Back to School: Mum Edition
EYMM
Back to School: Mom's Edition Blog tour.*
I must confess that technically the kids haven't just gone back to school. We are getting back into the swing of things after holidays in July. Just in time for the next lot of holidays.
But it was high time I sewed something for myself. Especially as I've been meaning to replace my favourite top since April.

I work 4 days a week, and wear a uniform. Which is great. No wardrobe decisions of the morning. So on my "day off" I like to wear something a bit nicer, but still practical for all the running around.


Enter the
Off the Shoulder Dress and Peplum Top
from
Everything Your Mama Made and More
(EYMM).
This top is perfect for my ideal "day off". Sitting in the sun, sipping some tea and reading a book on my phone (it's totally a book, I promise I'm not checking Facebook). I have my knitting stashed in my bag, ready to pull out and find some quiet space in my head.
I have road tested the top on a real day off. And it was still up to the challenge. This top helped me navigate through: school drop off; an aborted attempt at fruit & veg shopping (forgot my purse); Bible study; lunch; blood donation (which is why lunch was important); instagramming blood donation (more food involved there); successful attempt at fruit & veg shopping (hooray!); reading with the Kindy kids; school pick up; ballet lesson; homework; dinner prep (and eating); washing up; and sewing until way past my bedtime. Success!
It's now my favourite top, and hasn't made it into my drawer yet - straight from the washing basket to my back. Which does tell you a little about how often I fold the washing (but don't forget I wear it on the weekend too).


I have been trying to work up the courage to try out a peplum top for a while. The problem was, that I wasn't sure if the peplum would be cute and fun, or be like a big arrow with flashing lights saying "Look at those hips, they're huge!" Knowing that this pattern had a dress option as well as the peplum top, gave me a bit of confidence. I have a couple of knit dresses with circle skirts (skater dresses), and they look okay, so if the top didn't work out I could still have the option for a nice dress.
I'm now a fan of the peplum (except for windy days - breezy kidneys aren't too fun).
Just to be thorough, I tested it out with a jacket, in case it gets a little chilly
No problems there. And I can event throw on a scarf/pashmina if it gets extra cold.
Or pull the cowl down around my shoulders if it's warmer and I want to soak up some sun.
There isn't a whole heap of stretch in this fabric (because of the embroidery on it), but there is plenty of room for my arms and torso. The arm pieces are cut on the fold (so same front and back), but the raglan construction and boat neck (hiding under that cowl) mean that it isn't a problem.
So the
Off the Shoulder Dress and Peplum Top
has definitely passed all my requirements. Comfy, stylish, warm, and quick to sew (except for the hem, but circle hems and I are having 'issues' at the moment, so that's more to do with me). I can see some more tops - maybe in sweatshirt fleece, and probably a dress or two - in my future. Check out all the tester pics on the
pattern page
to see what you can do with this pattern!
Make sure you check out the other stops on
EYMM's
Back to School: Mom's Edition tour - the links below will be active on the scheduled day. And there's a code below for 50% off any adult sized pattern,
---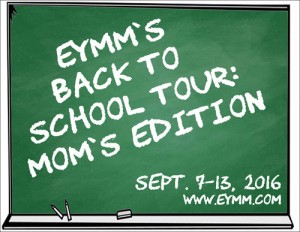 Don't miss any of the posts on EYMM's Back to School Tour: Mom's Edition! (Note: the links below will not work until their scheduled day, but feel free to click through and check out the rest of their blogs anytime!)
The kids are back in school and parents and caregivers everywhere are excited to catch up after summer break! Use coupon code PARENTSROCK to save 50% off any adult-size patterns for
men
and
women
now through 11:59pm PST Tuesday 9/13/2016. This offer may NOT be combined with other offers including bundles.
---
*This post contains affiliate links. If you click on an affiliate link and make a purchase I will receive a small commission. The sewing, the posing for staged and unrealistic photos and the opinions on this post are all my own.